Dry Cleaning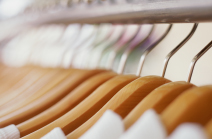 WashClub Bay Area offers premier dry cleaning service that uses Eco-friendly and non-toxic products for your delicate garments.
We care about your clothes and your health and do not use any toxic solvents like PERC (perchloroethylene).
We use Gen-X Impress for the dry cleaning process. Gen-X is a specially formulated glycol blend. It is designed to give a safe and high level of cleaning over a wide range of fabrics.
Gen-X is a clean alternative solvent for dry cleaning. It is biodegradable and virtually non-toxic and non-carcinogenic. It cleans better than all other solvents available today. Gen-X has been designed as an alternative to Perchlorethylene.
Unlike PERC, Gen-X has no health, environmental, or safety hazards.
Getting started is as easy as 1-2-3!
Place your order on our easy to use web site or app (available for iOS as well as Android) from your computer, tablet or smart phone. Select your options and indicate any special instructions and place them in your shopping cart.


Select a pickup and delivery time and complete the order. Dry cleaning orders are returned typically 48 hours later.


You will receive a confirmation via your selected preference: e mail or text message
When our WashClub driver is on his way for pickup or delivery you will receive an email or text message notification approximately 30 minutes or less prior to his arrival so that you don't have to wait by your door and worry about a three-hour window. Our driver will pick up or deliver directly from/to you, or from/to your doorman (as per your preference).
So, why wait? Download the app now or go to our web site and get started. Get your life back!