Commercial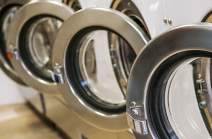 Our laundromats provide quality laundry service to some of the best and biggest spa and commercial facilities in San Francisco.
Our combined laundromats span an area of more than 10,000 sq ft and we have over 250 washers and dryers of various capacities ranging from 20 lb to 80 lb.
We have dedicated and highly-trained staff specifically dealing with the washing of commercial laundry, such as heavy lotions and oils in towels. We have staff on premises available at all times to answer any questions you may have throughout the processing of your orders.
Some popular linen items we deal with are hand and bath towels, gym towels, massage sheets, yoga mats, floor and logo mats, salon robes and so much more.
Our drivers will pick up and deliver your laundry on time and as per your requirement. Our turnaround time is typically 24 to 48 hours but this can be discussed and schedules mutually agreed.
We service the following commercial facilities:
Health & Medical Spas
Beauty & Nail Salons
Health Clubs & Gyms
Assisted Living Facilities
Universities, Colleges & Schools
Medical Clinics
Country Clubs
Email us on info@washclubbayarea.com for more information.