About Us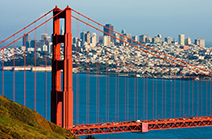 Our facility in San Francisco's Western Addition is rated by some of our customers as the "Cleanest laundromat in the Bay Area".
Our mission over the years has been to provide hygienic and friendly service to all our customers at our three laundromats in San Francisco and nearby counties (Our laundromats have a combined area of over 10,000 sq ft with over 250 washers and dryers of capacities ranging from 20 lb to 80 lb).
After number of years in the laundry business (laundromat, wash & fold and dry cleaning) we decided to tie up with Wash Club to provide on demand pickup and delivery service in the Bay Area. We are aware that your time is valuable and better utilized in more profitable pursuits but at the same time you need quality and timely service to process your laundry.
Our Wash Club app and on line ordering system on our web site makes your laundry headaches disappear with a few strokes of your fingers. We take care of the rest, whether your order is just for wash & fold or dry cleaning or both.
We are now in San Francisco city and will soon add other neighboring counties in the Bay Area.
Because we own the facility where your clothes will be washed and dried, we can ensure quality control. Our employees have been doing this for years and will ensure your clothes are finished to the highest standards.
We promise that we will provide you the cleanest, freshest clothes in the fastest possible time cycle.